Description
Lavishly Furnished Two Bedroom, Two Bath Condo on the First Floor.- Travertine tiled baths and shower, Stainless Appliances, Ceramic Tile Flooring - Granite Countertops. Free owner provided Wireless Internet w/inside unit router. 42" LCD flat-screen TV in Living Area - flat-screen TV's in both bedrooms. Two Queens beds in each Bedroom (total 4 queen beds) - No Sofa Sleeper. Four chairs and table on Patio. No Phone in Condo.

Saturday to Saturday reservations required for this property during summer high season and holidays. (Deviations are subject to cancelation)
Amenities
Barbecue Area
Playground
Seasonally Heated Pool
Pickleball
Tennis Court
Clubhouse
Guest Laundry
Beach Access
Central AC/Heat
Ceiling Fans
Cable TV, DVD Player
1095 Sq Ft., Ground Floor
On-Site Management
Numbered Unit Parking
Extra Guest Parking
Floor Plan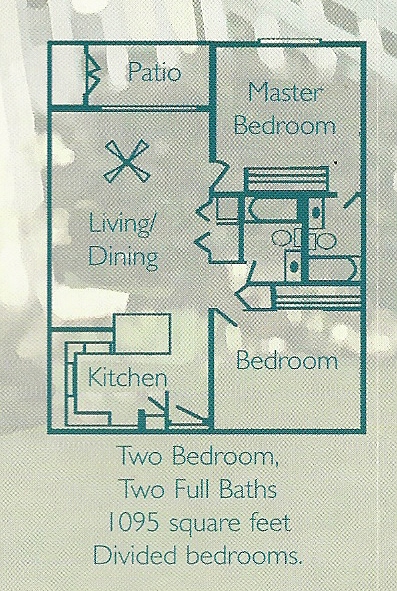 Calendar
Dec - 2023
S
M
T
W
T
F
S

1

2

3

4

5

6

7

8

9

10

11

12

13

14

15

16

17

18

19

20

21

22

23

24

25

26

27

28

29

30

31
Jan - 2024
S
M
T
W
T
F
S

1

2

3

4

5

6

7

8

9

10

11

12

13

14

15

16

17

18

19

20

21

22

23

24

25

26

27

28

29

30

31
Feb - 2024
S
M
T
W
T
F
S

1

2

3

4

5

6

7

8

9

10

11

12

13

14

15

16

17

18

19

20

21

22

23

24

25

26

27

28

29
Mar - 2024
S
M
T
W
T
F
S

1

2

3

4

5

6

7

8

9

10

11

12

13

14

15

16

17

18

19

20

21

22

23

24

25

26

27

28

29

30

31
Apr - 2024
S
M
T
W
T
F
S

1

2

3

4

5

6

7

8

9

10

11

12

13

14

15

16

17

18

19

20

21

22

23

24

25

26

27

28

29

30
May - 2024
S
M
T
W
T
F
S

1

2

3

4

5

6

7

8

9

10

11

12

13

14

15

16

17

18

19

20

21

22

23

24

25

26

27

28

29

30

31
Jun - 2024
S
M
T
W
T
F
S

1

2

3

4

5

6

7

8

9

10

11

12

13

14

15

16

17

18

19

20

21

22

23

24

25

26

27

28

29

30
Jul - 2024
S
M
T
W
T
F
S

1

2

3

4

5

6

7

8

9

10

11

12

13

14

15

16

17

18

19

20

21

22

23

24

25

26

27

28

29

30

31
Reviews
Page: 1 of 2 Write a Review

Property Manager

Richard is great to work with. Always accommodating.

Property

My favorite place to stay. Have been staying here for 30 years!

Property Manager

Richard was my go to person. Hes awesome,he was very patient when I was trying to pick a different condo. He even walked to the condo we reserved just to go check and see if there was a Keurig coffee maker in the condo. Yes there was. .

Property

Overall stay was excellent. Great atmosphere and surroundings, beautiful well maintained lawns. Very nice staff. Condos were very clean and well stocked. There was some sand toys left in the cabinet on the back patio. My grandson used them and had a ball. We purchased some sand buckets and toys and left them there for the next family with kids can use. Stayed 2 summers so far,expecting to rent a whole unit next summer for family vacation Cant wait.

Property Manager

Everyone that we came in contact with was very nice and friendly.

Property

The resort was great. Pool area was clean. The room was nice but wish the lighting was better in the living/dining area.

Property Manager

Absolutely an amazing staff. Thats why I keep coming back. Will be back in May as well.

Property

I have stayed in this particular condo unit 1402 three times now its absolutely a beautiful condo and very very well stocked

Property Manager

Great experience

Property

Very nice place and close to beach access

Property Manager

Great

Property

Wonderful!

Property Manager

Richard was great. We had issue with the AC. After we reported it, it was fixed very quickly.

Property

Had a great time. Lounging on the beach is always great. The unit had everything we needed.

Property Manager

Richard was absolutely amazing! He suggested many places to eat at or visit, which we found very helpful. We had a couple issues arise and he immediately helped us with them. He made us feel very welcome and comfortable. Thank you!

Property

Loved it and look forward to staying here again. The only minor issue was our neighbor took up our parking spot as well as theirs, but there was plenty of parking so it wasn't a big deal. Just a suggestion - it would have been nice to have coffee grounds to make coffee. Also, salt and pepper would have been nice to have for basic seasonings. Thank you for a wonderful place to stay. My family and I made some great memories that we will always reminisce about.

Property Manager

N/A

Property

This day was very decent. But I'm just used to staying in my own house.

Property Manager

Great!!!! Richard is great to work with.

Property

Loved it!!!!

Property Manager

Richard was excellent to work with and very helpful. Anything we needed he was quick to help. Very good communication also.

Property

Nice 5-7 min walk to the beach from building 1400. Unit was clean and tidy inside and out. Beds were comfortable. Good value for your money. Management was great! Pool was across the parking lot and clean also. Captain Daves (5-7 min and Pompano Joes ( 1.2 mi) are awesome beach side restaurants which we enjoyed walking to. Very enjoyable time staying with Chateau La Mer 2

Property Manager

Excellent

Property

We enjoyed every minute

Property Manager

Great

Property

Property Manager

Wonderful staff

Property

We love this place, have been coming over 25 years

Property

As always we loved the facility and our condo. The grounds were clean and well kept. The kids lived the pool and the playground. Can't wait to come back!

Property

We have been coming for 25 years. Now we fly and wish there were beach chairs as we buy and leave most years. Or some rental ones in office.

Property Manager

We did not have any in person contact with your team members. Our only problem stemmed from the mix-up of our family and our parents' family with reservations, names on the reservation, charging the wrong card, etc. In fact, this email should be addressed to Cheryl Olmsted (unit 1502), not Bob Olmsted (1402), who was the other family we kept getting mixed up with on your records.

Property

Loved the property, and look forward to returning again as soon as possible!!

Property Manager

Always helpful!

Property

Always a great vacation!
Similar Properties